Pediatric Orthodontics
As recommended by the American Association of Orthodontics, the best time for an orthodontic check-up is no later than age 7. However, it is certainly not too late if your child is older than age 7.
 Orthodontists are able to spot tenuous problems with jaw growth, emerging teeth, or airway obstructions while baby teeth are still present. Although treatment may not start at this time, our team at Precise Orthodontics can keep an eye on the eruption of permanent teeth and intervene when necessary. 
Typically, patients who have a mix of baby and permanent teeth undergo a two-phase treatment.
Phase 1:
Phase 1 addresses more serious issues early and takes advantage of a patient's growth spurt which will contribute to long-term stability. Early treatment may give us the chance to guide proper jaw growth, lower the risk of trauma to protruded front teeth, correct harmful oral habits, improve appearance, guide permanent teeth into a more favorable position, and create a more pleasing arrangement of teeth, lips, and face.
Early intervention may prevent or intercept more urgent problems that can make treatment at a later age smoother and shorter as well as mitigate more invasive procedures in the future.
Recall Period:
In between Phase 1 and Phase 2, patients may receive a resting period from treatment. This is where the goals of Phase 1 have been completed and we wait for the eruption of the remaining permanent teeth.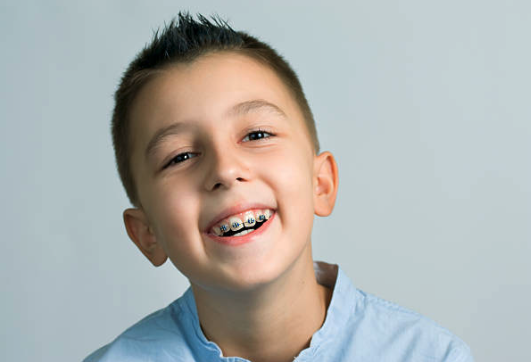 Phase 2:
Phase 2 can begin once all permanent teeth have erupted. This is where we can finalize the patient's bite and create their best smile. Phase 2 is necessary in the majority of patients treated with Phase 1. 
Precise Orthodontics makes check-ups for your child more accessible by offering a complimentary examination for your child's first visit as well as feasible payment plans and insurance options should your child need orthodontic intervention immediately.